A quote I stole from Seasons of Mist, volume 4 in the Sandman series hearing Harlan Ellison suck off Neil's writing prose. :D
And then....
"God's not looking for ability. He's looking for
availability
." -Joel Osteen.
I just got done reading that in one of Joel Osteen's books: "Become a Better You".
As I read that ingenious statement yesterday while taking a shit, I thought long and hard about the definition of "
avail
-
a-bility
".
Usually when I am trying to form my own opinion of what a word means in my
OWN
definition and how it connects to the personal world around me that I have managed to fashion for myself, I try to break a word up into syllables and focus on each syllable as a word all on it's own (
when possible
). I then take turns with each individual word and piece each definition together until I begin to make sense of the equation and how it all fits into my own calculated realm of nonsense.
Now comes the
fun
part....
I bust out
THE DICTIONARY
. I usually have to make sure I've got plenty of time on my hands once I break this baby out, because, like I read in one of
Sex's
blogs awhile back (critique series number 3, last paragraph. Yes I stalk the bitch, GET OVER IT), getting the dictionary out can be risky business for a busy body. Once you find a definition for ONE word, you quickly find yourself looking up another word. And then it leads to a trail of millions of other words, and the next thing you know you're keeled over in your computer chair, nose deep in a cocaine heap of syntax addiction.
Alas, knowledge is power. And words the great almighty sword of Victor & Destiny.
So, like, back to the word AVAIL. There's a
really cool
punk band called
AVAIL
.This is the first thing that comes to mind when I hear the word AVAILABLE. Group it with the word ABILITY, and you have a whle new word with a
completely
different ambience added to it.
The word AVAIL is defined as:
to be of use, help, or worth
. Ironically enough, the word AVAILABILITY is not available in my dictionary, but of course, "
AVAILABLE
" is. It is described as follows: 1.
that can be used
2.
that can be gotten or had, handy
.
Incidentally, the word AVANT-GARDE is one word directly beneath AVAILABLE and again, as
Sex
speaks of, the word addiction begins.
AVANT-GARDE is defined as: (
to MY spectacularly schitzophrenic delight
!)
the leaders in new movements, especially in the arts; vangaurd
.
So then of course I go on a mad hunt for the dictionary's definition of VANGUARD. (Keep in mind I already have a pretty good sense of what most of these words mean, but there is just something very appeasingly profound about discovering them in print.)
Solace is found as I pinpoint the meaning of VANGUARD- 1.
The part of the army which goes ahaead of the main body
. 2.
Leading position or person in a movement
.
I also note VAN GOGH available for my definitive pleasure and quickly skim over the word, being defined as simply, "painter", before I return to my search at the beginning of the dictionary yet again, where AVANT-GARDE was previously discovered.
I stare at my new pretty word while experiencing feeling of
completion
, a sense of
deep
connection
. I rest with this word in my mental psyche, making it one with myself, letting it roll off my tongue a few times, saying it aloud:
AVANT-GARDE
,
AVANT-GARDE
,
AVANT-GARDE
.
Somehow my schitzophrenically challenged wavelength of mentality tells me,
"This is an important word".
It is spiritually highlighted in my mind, kind of in the same way that "
Frank the Bunny Rabbit
" would highlight and relay important information to
Donnie
in
the movie Donnie Darko
. (A
must-fucking-see
film for any who eat, drink, and breathe sci-fi fantasy with profound meaning and intelligence.)
My mind races like this everyday.
EVERY FUCKING DAY.
On a good day, I'll take all this riff-raff and BLOG it, or recite it longhand style in one of my BAH-ZILLION journals I keep lying around my abode. On a bad day it'll just stay bottled up inside of me with nowhere for it to spill except into what later becomes my ostentaciously annoying manic/irritable modes. I'll flail about on a mad rampage of cleaning and self-mutilative/destructive frenzy.
This fever will typically burn within me for the next week or so; at least til I crash and burn from utter exhaustion and lack of sleep, so that I am no good to/for anyone or anything. The whole universe has to be put on hold until further notice until I can recuperate from my arduous journey.
There are times that my mind races so fast that it can feel like my orbital cortex is on fire, and I want nothing more than to douse my frontal lobes into a cooler of steaming dry ice.
I will keep feeling my forehead, making sure there are no beads of sweat trickling down.
But alas, my hand always returns to me dry.
So here I am
.
I've become sexually involved with my new word,
avant-garde
, and invited
AVAIL
and
ABILITY
to come and indulge in a foursome with me and my new word of the day.
Anyone got some Valium
?
P. to the S.:
Joel Osteen reminds me of Stephen Moyer, a.k.a. "Bill Compton" from HBO's new T.V. show "True Blood".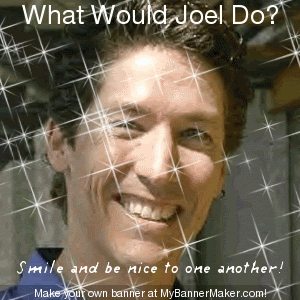 Not only does he resemble him in
appearance
, but in personality profile, body language,
and
verbal socialization style.
Bill Compton is WAY THE FUCK sexier than ol' "Joelie" though:
"
We vampires don't like for our weaknesses to be made public knowledge
".