Yay for me!!!
Author Erica Orloff
is sending
MOI
a copy of her book,
"Rock My World: A Novel of Thongs, Spandex, and Love in G Minor".
*

click on above link for more book info

*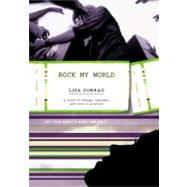 I won it simply by entering
her

"

contest

"

of sorts
, hosted by lovely
Demon Baby
, and
I
was
Of The Chosen
. There was one other winner as well, and when Erica announced the winners this morning, I was
erratically overjoyed
, as I've been secretly longing to have one of her books in my hands ever since I've had the pleasure of happening acrossed her blog. She is one of the most intriguing beings on this universe that I've met in a while. (Aside from
Mysty
,
Kat
,
Sex
, and
Nicola
!) I truly look forward to both receiving this book and reading it,
and talking it the hell up afterwards
.
And another big plus, I now have Erica's email address, so I can add her to my list of people to stalk and harrass via email. WOOT!! :D